7 Things about the 6 Mouskateers of Five Oaks Manor that no one is supposed to know but probably already found out. That was the requirement for the award we were given some time ago. We've done two, and so, now the revelations continue .....

Little guy loved and lived in that tiny chair
it was a pitiful sight to see him try to get into it
after he outgrew it.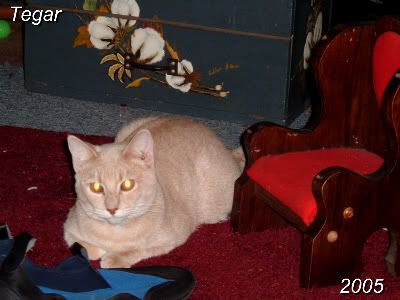 I never had camera in hand when he sat next to it
giving it the most forlorn, confused looks
"Bad Chair, Bad, Bad Chair.
It shrunk and I can't get in it anymore."


So, the little guy got his own flower basket
and it was personalized, no less
That's one he did NOT outgrow.
But limited floor space, and many other interesting things
in the house took his interest away from the basket.
It went the way of other past 'favorites'.
Time marches on ........
IF he had his druthers, Tegar would druther curl in someone's arms, make biscuits, and put himself and the cuddly Bean to sleep. He's good at that, and, for us at least, when we see him coming we resign ourself to the fact we WILL be going to sleep very shortly. No questions asked.
Still, he finds some very interesting places to park and snooze in, as of course, do all the little furrballs here at Five Oaks Manor, which makes for a slew of other secrets we will have to tell from time to time.
Right now we've bad storms headed our way, with Tornado warnings for the next few hours, so I'll close this and say ......
As always, I feel loved .....
Later .....
___________________________________
Don't forget to check out
KnightOwl's Blog
for the latest news from
SouthWoodsUSA™
.
___________________________________