This is
Tegar's
tale, so I'll let him tell it. I'll just type it for him. His paws just aren't made to fit the keyboard very well. 'Sides, I am faster than he is ...... at least in this one thing. Now anything else, forget it. Whatever ..... on with his story.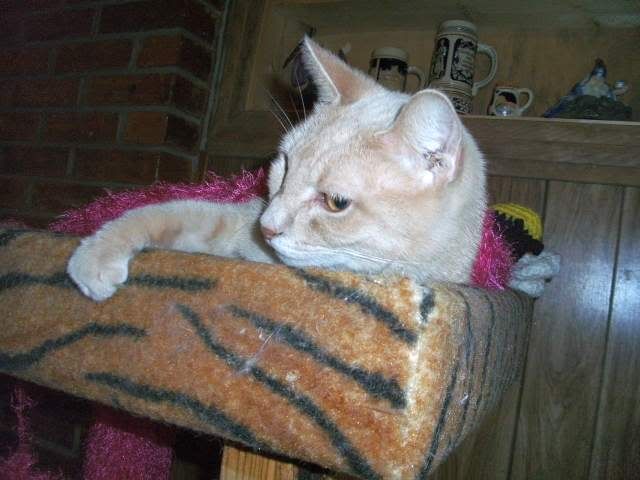 Not sure what to thinks of the new invader in da house
thankfully IT not living here
it too much trouble, it leak all the time,
and it eat our crunchy din din.
Barkies be NOT our choice of new brofurs and sisfurrs.
I keeps my eye on this one! IF it come back.


and it gots my plastic play toy first thing in the door
I not talks about it. Da Small One can iffin she wants.
Dis de noisy, leaky one. Him kinda cute I has to admit, but
I never did likes dorgs. They just yappy, yappy, yappy alla times
All dat dorg talk and dey never says nothin
Now if da Big One's lookalike boy humon, Roy Jr, gots a kittykat
Dat would be funs and games.
Sometin wrong wif him ......
And da dorg needs new name ..... Jasper?
Dat no name for Barkie or KittyKitty.
Well, now you know. The story will be continued soon. I'm sure Tegar will have lots to say about the new barkie and his stealing of the favoured toys.
I'm staying out of that argument myself. That's for them to straiten out. Just hope someone is near with a camera. It should be fun.
I would like to thank everyone following along with the Mouskateers, Lisa and Me here. The layout was needed. The encouragement was also needed. And both worked quite well. Depression is a hell of a dangerous thing to be lurking around in a person's mind. Now the house will be better lighted, the two of us will spend more time outside the house, if for nothing more than to chase the evil one away. And we will take more interest in what's happening with our friends on the WWW. You all are good medicine. Thank you.
We feel loved.
Later .....
____________________________________
____________________________________