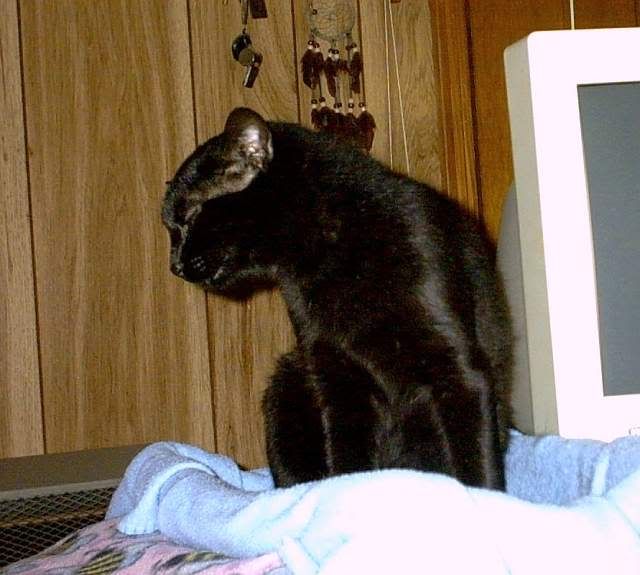 I have seen kittens sleeping standing up, sitting up
and just about any way you can imagine
But a grown Cat sleeping like this
MikiCato will be 8 in three months (May)
This cat is a surprise on 4 legs let me tell ya
the camera flash woke him up
if looks could have killed ......
I felt guilty!

Shelves are great places to stack books and things
this shelf, 7ft up, is there as a walk way for the boys
Buddy Bear, and too, the other three boys
believe shelves are for sleeping on
the shelf is NOT wide enough for that pudgy little cat
well, he is the Monorail Cat after all
I'll stay down here
The boys sleep anywhere, but when it comes to serious sleep, sleeping with the beans, then it's all up close and personal, snuggle and cuddle. In fact, this post is not what I had intended to present today because of that. Plans were to start after supper, take my time and work for that one 'once in a lifetime only dreamed of best post in the world'. Not to be today. WE woke up at midnight, minds (at least mine) blank, and I still had to upload 30 photos to the file on line. Spur of the moment posting again.
Real life takes its toll again. Well, another day, another Cat Nap.
Still, life is good. Sleep is too!
As always, I feel loved.
Later .....
________________________________________________