I've had a message from a good friend on the web telling me that she heard I was loosing the Blog. I'm here to say NOT SO. I am loosing the private forums we have been a part of for over 10 years on Worldcrossing.com. It was a bit of a shock because no one expected it, and for the longest time we could not make contact with anyone at the place.
Buddy's Blog will be here for as long as I can pound the keyboard and am allowed to.
Tell everyone that visits here that we will be posting again hopefully this afternoon. I must needs get me something called sleep. Not sure the cats if won't be involved, but, with or without them, I just gotta get some zzzs.
Everyone take care, stay warm, love the little ones, and come when you can. Here's one for the looking.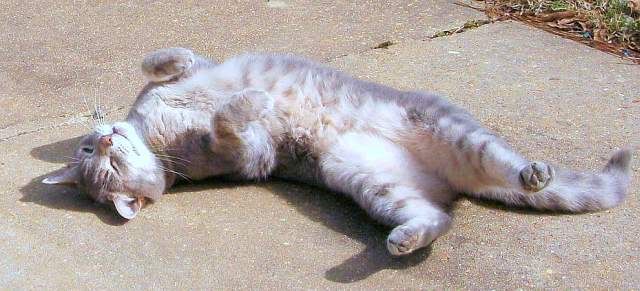 Smokey taking a roll in the sun
sun got the best of her
she went to sleep
belly up
I went in the house and did the same
but not in the sun.
As always, I feel loved.
Later .....
________________________________________________