A bit of 'soapbox' oratory to start this one off:
G'Day everyone.
For those of you not familiar with the site I'm going to talk about, I will herewith highly recommend it. Click on the purple button at the top of the page when you get to the site to get sponsors and supporters to donate food for rescue animals all over the country. The continually updated chart showing donations is about half way down the page. The more you click the more 'they' give. I does not cost you a farthing more than a little finger action.
While you are there check out the sponsors' sites. All kinds of good goodies for sale, and each sale generates more food for the shelter animals.
Remember, when you visit a site, whether Blog, Personal Website, even Message Board/Forum, and you see this button posted there, it is NOT for decoration. If you are not a regular 'clicker' it's time you started.
A daily click, or at least one click each time you enter the WWW, will generate a donation. Remember, these clicks help those who can not help themselves.
Tighten up people. Donations are down this season, and that is NOT good.
_________________________________________
Off my soapbox as it were, and on to other thoughts and things of the day past.

Yesterday was one of those days that you always dream about, especially those of you living in the frigid areas. SouthWoods, NE MS, USA had a heatwave. The high temp for the day was 75°F. Sun was shining, ground was relatively dry, and things were waiting to be done.
Smokey, Princess, and yours truly did some of those things. We performed a much needed clean up of the Cat Porch (our long ago converted carport). Much stuff and many things disappeared from the area and will eventually (this coming Tuesday is Garbage Guy day) be removed from Five Oaks property forever.
I'll regret it all another day. Right now I am proud of myself, and of course the little girl kits. They worked hard. Needless to say there was no time for pictures, at least I did not think of taking pix. Sorry that I didn't, but there it is. Just know that they helped and their help was greatly appreciated.
While we're on the subject of the outside residents of Five Oaks Manor's Cat Porch, I'm thinking this would be a good time to insert some of the many pictures we have accumulated these past years the little ones have been here.
For those of you not familiar with the story, the abbreviated version is: They came over from across the road for a visit one day, had a snack from one of the many bowls of dry food we kept out 24/7 for ferals, discards and strays of the area. They returned a few days later, bag and baggage, with, of course the eventual consent of their previous humon servants. The girls have not been back across that road since. That first visit was over 8 years ago.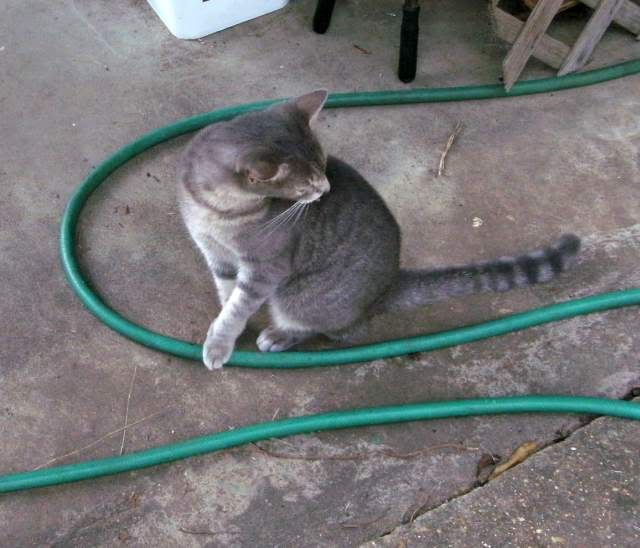 Smokey was the first to be out with me and involved in yesterday's cleanup
She, in spite of her lame left leg, is very active, and very helpful
I get many 'rest breaks' because of her antics
She is the family's mighty huntress
and outside human 'escort kitty.'
She leads me everywhere.
I follow because I must.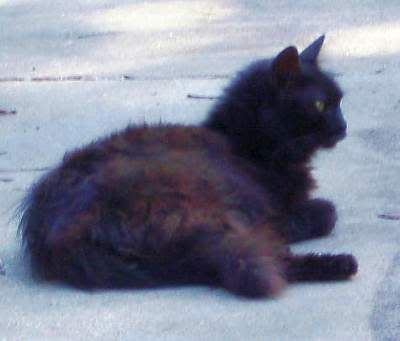 Princess is more the supervisory type individual
She will definitely take charge of you
should you make the mistake
of taking a break and sitting down
She'll do the 'cat in the lap' bit in a hurry.
She's allowed.
Today's weather forecast is for temperatures a mite lower than Saturday, somewhere around 65°F, but we can live with that way better than the mid to low 30s. Yes indeedly. Therefore I have posted myself a bright yellow reminder note, a Stickup as it's called, on my work hat, to take the camera out with me. With that bulge in my pocket there's a better than average certainty we shall have current pictures of the outside activities.
The lady of the house has been gifted with the older camera, given another 10 minute block of instructions on the basic operations of said camera, and with such basic settings as are available on the small thing (the camera, NOT the Lady), she is fired up and 'rairin to go' today. She needs the outside air as well, and will be out and about. Not being allowed to participate in the outside work, she'll be underfoot with that camera I'm thinking.
Well, this is as far as I'm going to take this one this morning. We'll see what happens viewer wise. Should my ruminating and babbling be acceptable with everyone reading along, we shall occasionally wander through the mind of the of the one they call 'The Wizard Sgt. Pop', aka 'KnightOwl', the 'Webmaster', and on more than a few occasions 'Hey You'!
Y'all come see us when you can, be safe, stay warm, and make sure you remember to hug and scritch the little ones one time for 'LadyBug' (Lisa) and 'KnightOwl' (me).
As always, I feel loved.
Later .....
________________________________________________