brought her sissyfur, her bag and baggage, and stayed furever.
She lives in the laundry room in her own bed. Her dining table is the covered, padded top of the dryer, her sissyfur has the washer all to herself. Her sissyfur is comfortably enthroned on an extended shelf next to the water heater, where they both spend the cold days of winter surveying the east half of Five Oaks, making sure all is secure and not threatened by human or critter. A brave little soul that would rather be carried around the acre looking at the world from her adopted human's arms that sleep.
Day or night she's always asking to be picked up for a hug and some private conversation. I am most always available. Why do I spend so much time with a little cat that started her life just across and up the road from our home here in the SouthWoods? Well, I figure if she can put up with me all these years, then it's the least I can do.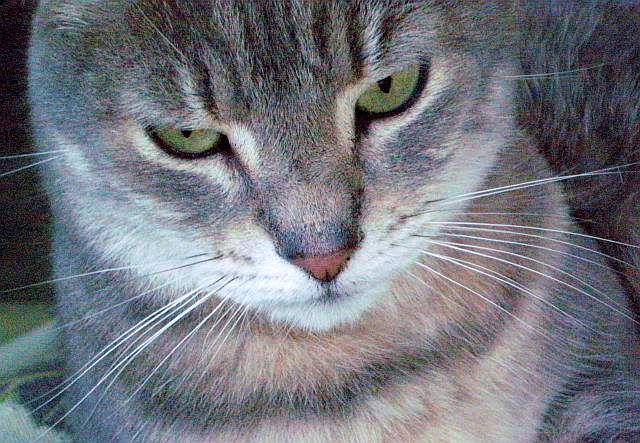 The name she came with is Spooky
She's out there on the Cat Porch still
Been there about 8 years now
Has mastered the bad leg and only limps
When she sees I don't have food in my hand.
She's a member of the 6 Mouskateers of Five Oaks Manor. She's just a little cat, but what a heart beats in that tiny little chest. We spend much time together. She's the one that came to dinner and hasn't stopped eating yet.
As always, I feel loved.
Later .....
________________________________________________