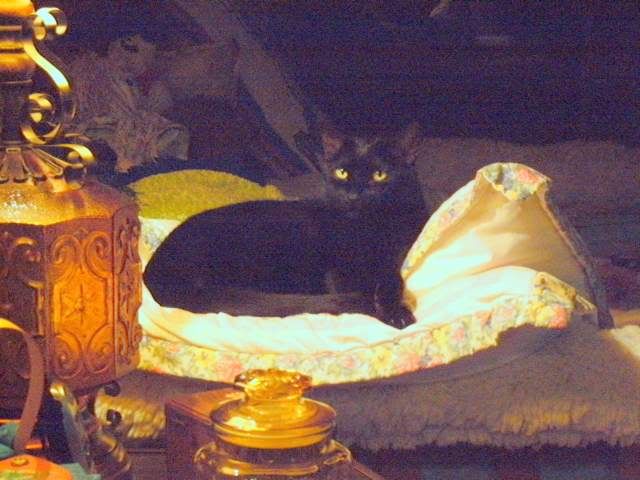 A random choice from the files on our hard drive.
the Webmaster's lap robe,
the head of the Large one's fan club
MikiCato awaits companionship on the futon
His wish was my command.
I thought I could get away.
Today's subject, and the photos chosen for the presentation, was one that came to me AFTER the post editor was open and another tab was up with the photo album site opened. Random choice I guess it was. Well, the subject is one of my 6 most favorite subjects (after M'Lady Lisa of course), so it falls that I just grabbed the nearest pix of my Lap Robe and started posting. I'm not a master with the HTML so this takes a while for me. What comes out, text wise, is just kinda 'off the top of me head' and all that! Most comes from the heart.
My heart tells me I have a very big love for this little guy.
Miki is independent, yet he always wants to be where we are, we being the family. Now, of course, I come first, which fact after 7½ years of quality time with this little guy, still surprises me no end. Well just about anything to do with the Mouskateers of Five Oaks surprises me very frequently.
Watchit, I'm getting one of my 'Blather' sessions going here!
Ok, as I said, Miki is independent, a bit aloof, yet very affectionate to one and all, but on HIS terms. I am his! No questions asked. He speaks, I answer, and vice versa. This is good. At my age I need a close friend I can talk to. And talk I do. And he talks back. Of course no one believes me when I speak of it. No one, that is, but Lisa. She's the only one who has managed to sneak up on us while we are involved in our secret conversations. Talking to him is educational. I learn something new about myself every day. I discover feelings I didn't know I had ..... some of them disturb me. But not my Miki. He is a stalwart 'listener' and he never leaks a single secret to anyone. You seldome find many friends like that.
Needless to say, I love my kitty and he loves me. That makes the world go round. I love my other kitties and they love me too, but, as previously reported, there is something extra special about this little guy.

Grainy shot, poor light, but great subject,
Miki's perch just above my chair at table
If he's not on the shelf beside me he's up there.
He is a first class supervisor and observer.
He can also see the drive through the window
He's a first class 'intruder' alarm .
This could get too long. I'll drop one more picture (remember now, I am not a professional photographer, just like to take pix of what is special to me and very few are thrown out. I love to show my kits' pictures.)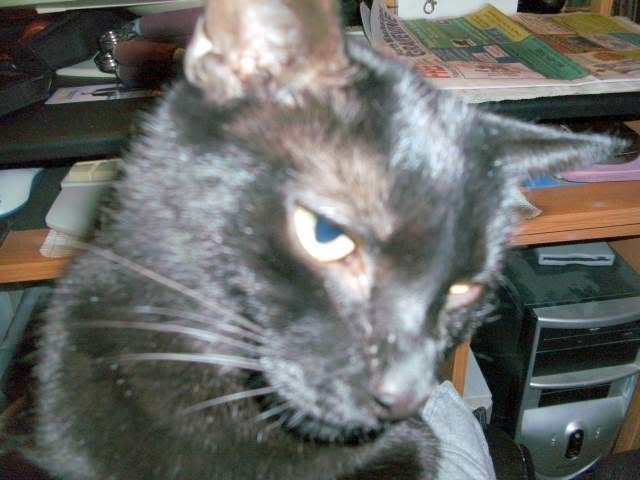 He just jumped into my lap
He wanted the camera strap
for the 'toy of the moment'
He's never far away for any length of time
I get many shots like this
I miss many more 'prize quality' shots
I must remember to make some movies
I know the camera makes them
If I can just remember how.
Another day, another pleasant interlude with my friends on Buddy Bear's Cats' World's Blog.
Oh, before I forget: new links are up and linked to the web site, the newest and most interesting to me, is
Buddy Bear's Community Forums
. It's free, open to all, and it is quite secure. You MUST have an legitimate account to register and post. Join us if you will.
With that I'll depart and see to my Lap Robe and his furrbrothers and furrsisters.
As always, I feel loved.
Later .....
________________________________________________