This being the day for verse, here's one we copied from our
Verse & Things
web site, a part of
Buddy Bear's Cats' World
.
Our thanks to the author,
Eleanor Farjeon
, for the use of the verse. The kitten pictures, of course, are of our own
MikiCato
and
Rowdy
.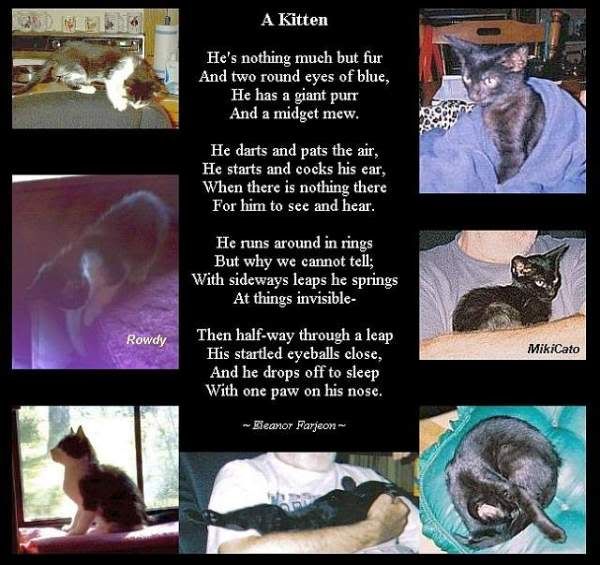 We hope everyone has a super purrfulous weekend, and you will all come visit us on the forum, the web sites, and too, here. The comment section is open to all.
With that said, I'll leave you with this tidbit copied from another of our sites,
Buddy's Cat Quotes and Sayings
; this one yet to be opened to the public. Call it an experience to be. More on this later.
"A kitten is the most irresistible comedian in the world. Its wide-open eyes gleam with wonder and mirth. It darts madly at nothing at all, and then, as though suddenly checked in the pursuit, prances sideways on its hind legs with ridiculous agility and zeal."
~ Agnes Repplier ~
Having MikiCato curled in my lap as I compose and edit today's blog, the evening has been a warm and cuddly one.

I feel loved.