I went in search of this little cat. I drove quite a few miles before I found him, his Mom, and the rest of the litter of 5. They had just been dumped outside on the patio of the house he and his sisters were born in. The
Small One
was shocked that I took 'another black cat' instead of taking one of the beautiful little girls. She knew why I wanted the little boy, but she just wouldn't admit it.
I was missing my two handsome little black guys,
Princess Ebony's
eldest son,
Terry Lee
, and the younger,
Jon Tommy.
I had had to put them down a few short months before.
We had
Buddy Bear
in residence, he was a sweetheart, and he had already taken his place as the leader of the clowder (actually he WAS the clowder) although
Princess Ebony
was still with us. He had already chosen his sleeping spot: in the big bed by my side, sleeping on my arm on the pillow. 10 years and he is still there, but, at the time, I needed my little
House Panther
to make things complete.
Anyway, here's what we had the first afternoon we brought
MikiCato
home to
Five Oaks Manor
.
MikiCato getting acquainted with his new Small One
first day in his Forever Home.
He became #1 knitting helper
even helped her press the finished item
that evening before bedtime.
Of course he slept on the Baby Dress after she pressed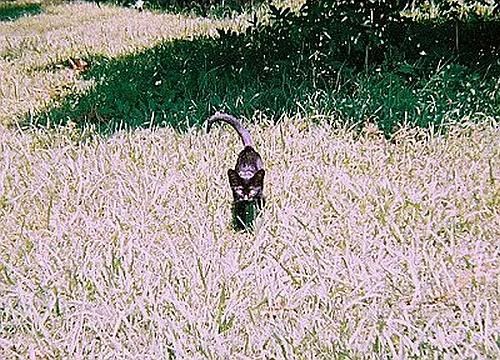 Sometime the next morning
he was taken out for some sun and fun
Little guy did NOT like the tall grass
He was under the cedar tree when I called him
He came at me on the run
Meowring like something was after him
Within a week he was a total house cat
and never looked back.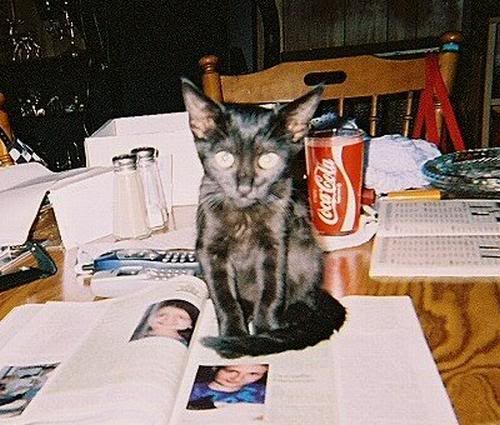 In short order he took over the duties of
paper-holder-downer for the Small One
I've never heard a word from her
complaining about the little black spot on her book
or her knitting patterns.
May 2nd of this year he will have been pressing papers and books
for the Small One 8 years.
Seems the books have shrunk a good bit over the years.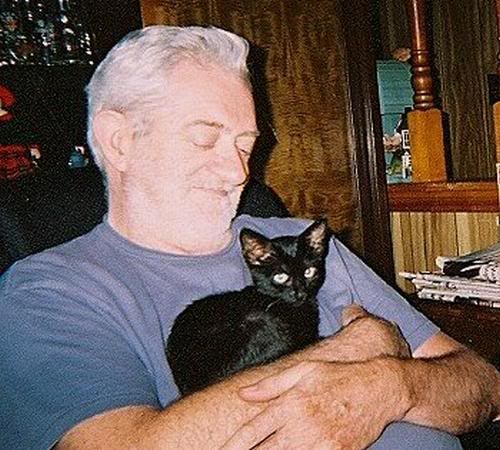 The first hour in house, the little guy hit the sleepy place
Naturally I made sure it was in MY arms
Later the Small One tried to hold him so he could take another nap
But he ran to me.
I felt loved.
I still do.
Now, though, he doesn't quite fit there.
My lap seems to be the best place for the big rangy House Panther.
Neither of us complain about life much.
We are content.
As always, I feel loved.
Later .....
___________________________________
___________________________________
___________________________________