Lately I've been calling him
'Furby
'. My little guy answers, and comes running. Heh! He even barks at me sometimes. Yeah, I know. Cats do NOT bark. Well we never told this fluffy butterball he was a cat. He never asked.
I look in on him sometimes when he's been missing from the activity around the house, and 9 chances out of 10 he will be curled up in my 'warm spot' on the big bed. When he sees/hears me, the little head comes up and I get a 'Wooh, wooh, wooh, that, to these tired old ears sounds just like a little dog giving sweet talk to someone. Well, he IS a motormouth after all.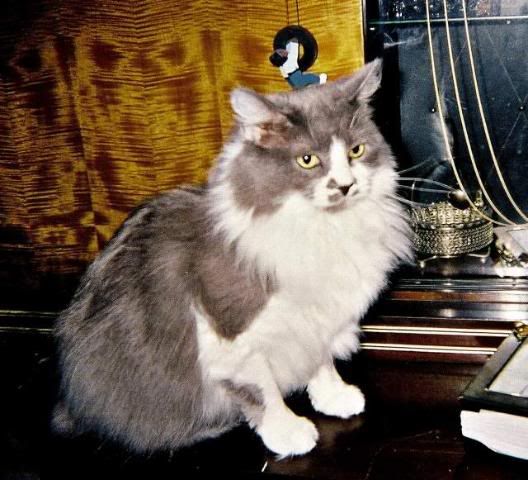 2005 found young Buddy Bear antsy, happy, and healthy
full coated, an easy little cat to maintain
single coated (a Ragamuffin), he very seldom gets
a brushing. Of late he has taken to nervously chewing his fur short
where ever he can reach it.
He is NOT a good barber I can tell you that.
He doesn't care. He's a Cat.
He's healthy, he doesn't hurt himself, so we let him be.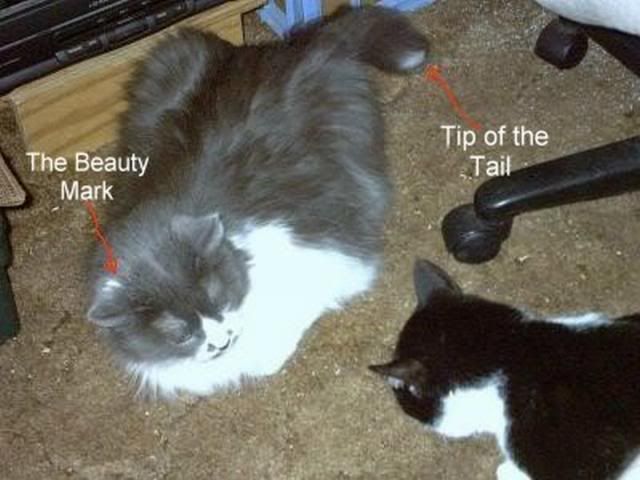 Lately folks are making mention of how cute, handsome, and cuddly looking he is.
Talking about his four spots around his nose
..... a four leaf clover one visitor said
I'm prejudiced 150% about by Buddy 'Bocephus' 'Bubba' 'Cuddly Chops' Bear
One time, while playing with a tweaking program, I marked this picture
Showing his beauty mark and his funnily tipped tail.
Let him outside and you can NOT miss seeing that white tip
as he tries to make good his escape through the high grass.
The beauty mark is always the last thing I see before
we turn out the lights in bed at night.
As always, I feel loved.
Later .....
___________________________________
___________________________________
___________________________________