Browsing through past years' pictures on the hard drive, this batch came to light and several stuck with me. After about an hour of digging I went back to this day's session.
The following is what developed.
_________________________________________________
The year is 2007, June 8th to be exact. Late evening. Thunderstorms were prognosticated for our area.
I went out to check on the Girls (
Spooky
and
Smokey
) who live on the
Cat Porch
here at
Five Oaks
. In spite of the fact that they can not come in the house because of the Boys (
Buddy Bear, MikiCato, Tegar and Rowdy
) they DO have a room all their own, safe and secure from the elements.
Anyway,
Smokey
was already snuggled down in the window nest watching the world, dozing, and surprisingly enough, ignoring the thunder-rumbles, while the little fluffball,
Spooky
(we call her
Prinny
; short for Princess), was out on the work table in the front yard, taking in the show, the cool breezes, and, like her sister, completely ignoring the thunder.
Pictures were taken, and uploaded to the family files. Here's today's set.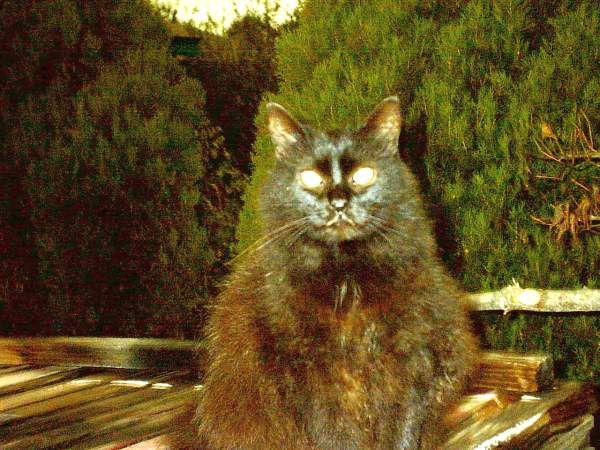 Spooky posed prettily and got the blinky
which, of course she does NOT like
So much for her cooperating for
the rest of the pictures.
I turned the flash off.
Glancing up at the western sky
we saw this
Spooky was not interested
Numerous shots were taken that evening
this being one of interest somewhat later
than the one above.
Spooky was not interested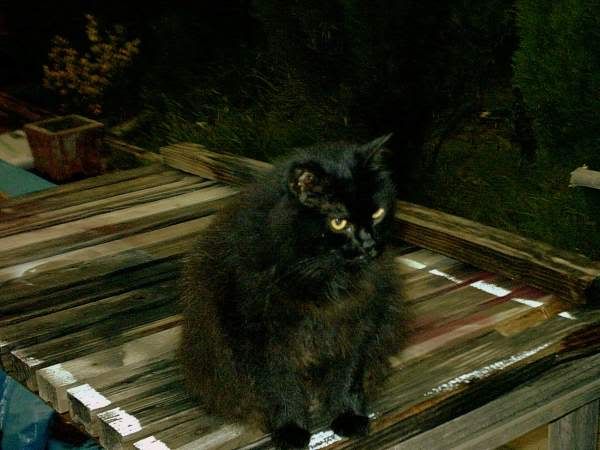 Having had my fill of clouds
and seeing nothing more to interest me 'up there'
I turned to Spooky for another pose
Spooky was not interested
Having since acquired a better camera with all the bells and whistles (I'm still learning the basics of the thing), we don't have the 'flashy' problem anymore. Well, not as bad as with the old camera. We took a half dozen more 'poses' before I went in for the evening's postings and to play on the PC.
Spooky was not interested!
Still, I feel loved.