Missing posts here on Buddy's Blog is the one thing I swore I would not do again. But I did it again, thanks mainly to the major portion of our life we call Real LIfe. I had chores past due.
I finally caught up with the equipment maintenance and got into the yard work on Funday, followed by another day of the same activities Still not finished as of this writing, but I'm well satisfied with what was accomplished. Actually I did not think I would get as much done as I did. Guess I am loosing faith in myself and my physical abilities. Granted I know the body slows down with age. It's possible I need an attitude adjustment? I do so dislike the duties attributed to a Residential Landscape Technician. Work is NOT one of my favorite words.
Anyway, we are not here to brag or complain about what I can or can't do. We're here to talk about, and show our friends some of the pictures of the 6 Mouskateers of Five Oaks Manor, SouthWoodsUSA.
It was a bright day outside the computer room when I caught this little guy doing his thing with his feathered friends just the other side of the front window.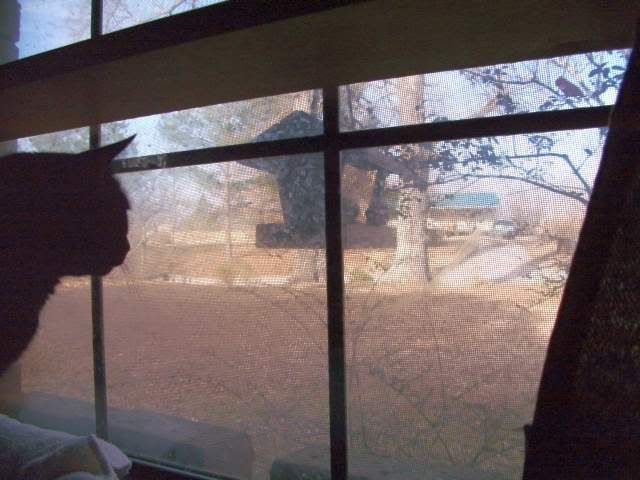 Miki still guarding against the featherdusters?
sometimes I think they are communicating
do they have ESP or telepathy or whatever it's called?
eerie thought that one.

Window is dirty again!
A cat lover's work is never done.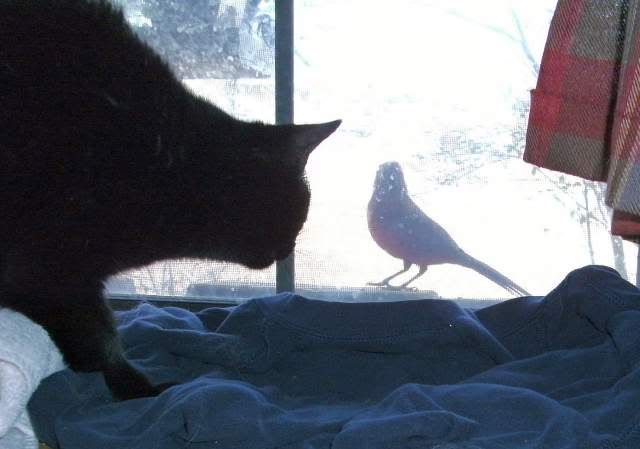 Some of those featherdusters are getting very bold
Gotta keep close watch on them
Buddy comes in after lunch sometimes
and takes a shift on guard duty
I must remember to take some shots of the two of them at the window. They usually pass out for the afternoon right there.
Take care everyone, have a good rest of the week, and tune in tomorrow for the continued escapades of the little guys and girls we call our 'fur children.
Peace and Purrrrrrrrr ......