Again I'm tardy in my postings ........
Many things crossed my mind as I sat pondering what subject, if any, I would use for today's post. As I begin this I must confess I have no idea what I'm going to say. Maybe that's for the best as I've not been hitting on too many popular thoughts and subjects of late.
One subject is always on my mind. My clowder of little furry friends, my Cats, but that is a general subject I'm told. NOT SO! In this house, CAT is a most important subject. I sleep with cats, I wake up with cats, cats escort me to the bathroom of a morning (and whenever), cats help me take my bath/shower, they help me dress each day, and assist me in anything (except for cutting the yard, or running any other power tool) that I do on the acre and in the house. It's all a part of my life to have a cat or three within arms reach while involved in most all daily activities.
An acquaintenance or two tend to consider me a little 'cracked' because one of my favorite subjects of casual conversation is my Cats. I'm forever handing out the URL to my cat's website to new acquaintenances with a strong encouragement to join the Cat Forums, Clubs, Top Cat Site Lists, and Message Boards I operate here and there on the web. So, I do the same here. Why not? It's our 'Update Blog' for
Buddy Bear's Cats' World Web Site
after all.
Today I'll leave you with a couple of random pictures of the reason for all the sites I claim as mine here on the World Wide Web.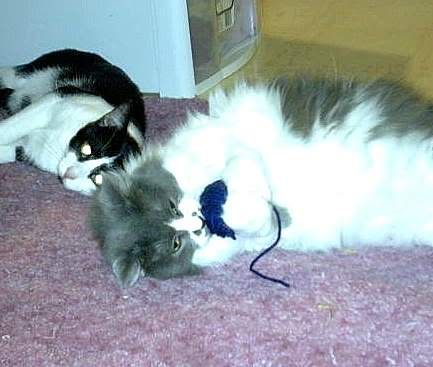 Buddy takes up knitting, or is it rug weaving?
I never know what the projects are supposed to be till they are finished.




Miki poses for the camera ........
One of the few times (of late) he would be still for me
Oh, and before I forget and close todays post, We (Buddy, his sisfurrs, brofurrs, and I) have a new section of Buddy's World we've been working on. If you have not visited yet, it's
Verse & Things
, a collection of Cat verse, pictures of our cats, grand-cats and friends' cats, stories, and assorted eye candy and such. There have also been numerous additons to the website in
Buddy's Photo Albums
, and updates to more than a few pages. Much is still left to do in the way of the face change we started some time ago, but we're working on it ...... indeed we are.
Well, the light of day is slowly pushing the night back and away and I've much to accomplish today, mostly in real life, to include enjoying the local daughter's eldest girl child. School being out, she is getting her week's visit in early, with hopes, of course of additional weeks before the books call again.
I'm gone for now .......
I am .....
Roy, Sr,
aka KnightOwl
I am theWizard they call Sergeant Pop
BUDDY BEAR'S CATS' WORLD