We missed Monday for the "Monday's Cat" issue, so I'll drop one shot here and call it a preview of things to come.
We've a number of feral, abandoned, and "turned out because they grew up and scratched the furniture" "outside kitties" on our Cat Porch (read converted carport), three having adopted us, and are now full members of the "Mouskateers of Five Oaks Manor". They drifted from other homes to ours, and after an extended stay, we were informed (about one) we could "have her, and good luck. She does not like men." The others we've had no comments from the neighbors, so .... As for the little granny kitty, I'm a man (last time I checked) and the man hating cat seems to love me. Lap cat, shoulder rider, comes to my call EVERY time, leads me all over the yard (as does two others). One is a feral for sure, but he is slowly coming around. He does not leave the acre.
These are all outside cats. I would have two of them inside in a minute if it weren't for the room .... we have four insiders now, and the place is way small as it is. Then too, we've not the funds to do the shots and such needed. I'm hoping for some relief, but .....
Anyway, here's one of the little ones.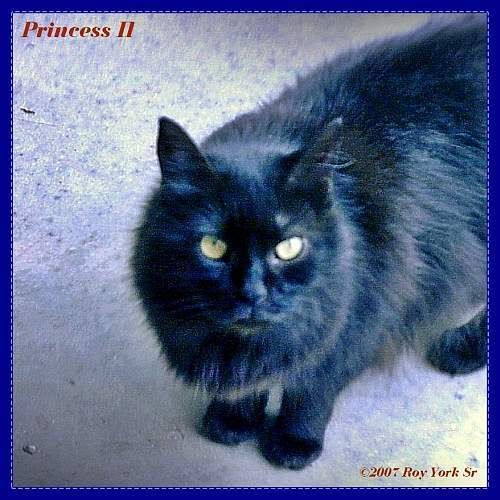 This is "Spooky", the little granny kitty we now call Princess II
She's the shoulder rider, the one who "hates men!"
She's my special little love.
What the hey .... here's a couple more of the little one for good measure.

A delight to have at my feet as I wander the acre.
She's my escort, my body guard, and one of the two
who always greet me at the door each time I come outside.

I've more, but we'll let these be the limit for the day.
Thanks for viewing our little ones. And don't forget to check by our website,
Buddy Bear's Cats' World
.
Oh, and while you're there, please sign Buddy's Guest Book.
Later ....
I am your Webmaster, Roy York, Sr,
the Wizard they call "Sergeant Pop"